Call for Papers
3rd Workshop on Energy-Efficient Machine Learning (E2ML)
This workshop is co-located with International Green and Sustainable Computing Conference (IGSC)

News
2021/07 Submission site has been opened at EasyChair. (Pleaes see details at Submission Guidelines).
2021/06 Due to uncertainties of the COVID pandemic, IGSC 2021 will be held as a Live, Video Streaming Virtual Conference
2021/06 E2ML Website is open now!
Scope of the Workshop
Advances in the machine learning (ML) and its deployment in a wide range of systems for various applications. This has stirred interest in the design of various devices ranging from cloud servers to miniature IoT devices equipped with smart capabilities with embedded ML. One of the major hurdles to be addressed for an efficient design of such systems is to managed the limited available resources. The second edition of Workshop on Energy-Efficient Machine Learning (E2ML) workshop focuses on the design strategies to minimize the footprint and efficient management of resources through advanced computing techniques as well as resource management. The topics of interest to this workshop are:
In-memory computing
Neuromorphic computing
Approximate computing for ML applications
Power management for ML architectures
Emerging memory technologies and its applicability in ML applications
Spiking neural networks
Learning algorithms on embedded systems
Hardware-software cross-layer co-design
Distributed ML algorithms and hardware for real-time performance
Quantum computing
Quantum machine learning
Any other relevant topic related to design of hardware for ML and optimizing ML for resource constrained systems is within the scope of the workshop. Papers that showcases interesting analysis regarding embedded ML and the possible ways to extend are also welcome.
Submission Guidelines:
There are two ways to participate the workshop: (1) Presentation with paper publication and (2) Presentation without paper publication. Please see details as follows.
Presentation with paper publication
Workshop papers will appear on IEEE library (IEEE Xplore). All papers must be original and not simultaneously submitted to another journal or conference. Full papers should be of length up to 8 single-spaced double-column pages using 10-point size font on 8.5x11 inch pages (IEEE conference style) including figures, tables, and references.
IEEE templates can be found here
Full paper submission deadline: August 23rd, 2021 September 6th, 2021
Notification of acceptance: September 6th, 2021 September 13th, 2021
Final paper deadline: September 13th, 2021 September 20th, 2021 (Firm Deadline)
Papers have to be submitted over EasyChair: Tack of Energy-Efficient Machine Learning.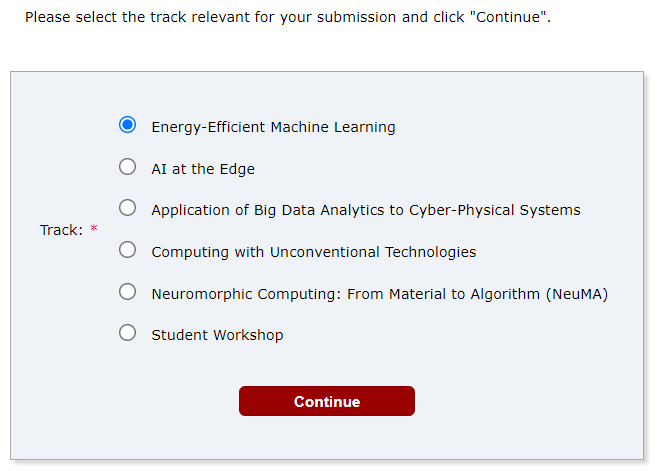 Presentation without paper publication
If you have interesting work related to the scope of the workshop and want to present at the workshop without publication, please feel free to directly contact Weiwen Jiang.
Schedule at 10/18/2021, based on Estern Time (Tentative)
Session 1: Energy Efficiency in Classical Computing
| Time | Author(s) | Affiliation | Title | Type | Resource |
| --- | --- | --- | --- | --- | --- |
| 09:00-10:00 | Alex Jones | NSF CNS Program Director | to be deteremined | Keynote Speech | |
| 10:00-10:30 | Caiwen Ding | University of Connecticut | to be deteremined | Invited Talk | |
| 10:30-11:00 | Ali Jahanshahi, Rasool Sharifi, Mohammadreza Rezvani and Hadi Zamani Sabzi | University of California, Riverside & University of Virginia | Inf4Edge: Automatic Resource-aware Generation of Energy-efficient CNN Inference Accelerator for Edge Embedded FPGAs | Paper Presentation | [Paper] |
Session 2: Energy Efficiency in Quantum Computing
Time
Author(s)
Affiliation
Title
Type
Resource
11:30-12:00
He Li, Hongxiang Fan and Jiawei Liang
University of Cambridge & Imperial College London & Beihang University
Quantum Most-Significant Digit-First Addition
Paper Presentation
[Paper]
12:00-12:30
Zhepeng Wang, Zhiding Liang, and Weiwen Jiang
George Mason University & University of Notre Dame
Co-Design of Quantum Neural Network and Quantum Circuit
Invited Talk
Contact
All questions about submissions should be directed to Weiwen Jiang
Organizers